Locked Out?
TIME TO CALL A LOCKSMITH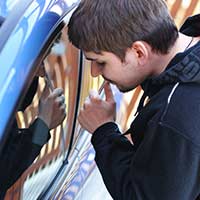 Suddenly seeing that you're locked out, whether from your car, your home, or your business, is never convenient and always unnerving, especially after sundown. Keys, wallet, and phone. We keep that mantra in the back of our mind whenever we walk out the door. And we always remember...until the one time...when we're in a rush...and we totally forget! Oh no! Locked out!
Instead of getting upset, first you should call that trusted friend or family member who always keeps your spare key for you. If you don't already have a person like that established, now it's time to look for a door or window you left open, so you can get back in. 
Still stuck? Read on.
Whether you're stranded from your place of residence, your car, or your business - you may find yourself worrying and wondering if the help you need will ever arrive at all, but don't waste your time going into a panic. Should you really entertain the thought of breaking a window, and risk being mistaken for a robber? Of course not! It's important to plan ahead, so you can avoid this scene in the future!
Are you locked out of your automobile? If you belong to a roadside assistance company, it's best to call it first. Roadside assistance organizations keep their own reliable list of pre-approved subcontractors, so you'll already know that they can be depended upon to expertly perform standard services such as unlocking your vehicle, giving your car a jump, and so forth. 
If you don't have a roadside assistance organization membership, then find an automotive locksmith specialist, who has the knowhow to replace your car keys and car locks, program your transponder "chip" keys, install a new ignition cylinder for you, and so on.
Find a dependable, local locksmith company. If you don't manage to get a good recommendation, then do some responsible research. Let your fingers do the walking through the phone book, or search the Web. Note the names of the potential reputable locksmith companies in your area, with addresses and phone numbers. Choose locksmiths that specialize in the services you need. Confirm that each street address actually belongs to that locksmith. Sometimes, a disreputable company will give a fake address, claiming to be local.
Match up each phone number with the street address using the Internet. If a person answers the phone with a basic greeting such as "locksmith services," rather than saying the company name, be sure to ask for the business' legal name. If that person hems and haws, then call the next one on your list. Note also that a perfectly acceptable locksmith company may not include a street address, because their business is mobile, dispatching an expert locksmith who's local to each customer. So, if an address isn't given, just find out why. You can also check with the Better Business Bureau to see if there are any complaints on file. You can also consult your local consumer protection agency, and your state's attorney general's office.
No matter what the circumstances, always get an estimate. Even for a lockout emergency, before you approve any work, get a written quote including labor, parts if applicable, and fees, if any. If you're locked out, over the phone a legitimate locksmith will tell you either an exact or ballpark estimate of the total cost. There could be a minimum fee; there might be an extra charge for after-hours work; there might be a mileage charge; etc. If the price the locksmith gives you when arriving doesn't match the estimate you got on the telephone, then it's thanks but no thanks.
Check the locksmith's credentials. Upon the locksmith's arrival, ask for a business card, identification, and proof of license. The locksmith's invoice has to include the company name. Confirm that the locksmith's vehicle has a name on it the same as the business card and on the invoice. For proper security procedures, the locksmith must also absolutely verify your identity. Before any work can begin, you'll need to show your ID and prove that you're the actual property owner - whether of your home, car, or commercial property.
Be skeptical of a locksmith's claim that drilling or replacement of a lock is necessary in an emergency. A skillful professional locksmith will bring the correct tools, and possess the sufficient knowledge and experience to realize that such extreme procedures are probably excessive. A real expert locksmith is especially skilled and certainly qualified to unlock just about anything.
A premium locksmith is properly insured, officially licensed, thoroughly background-checked, and appropriately bonded. If your property were to be damaged during a service call, or if the locksmith were to do unsatisfactory work, the locksmith must have insurance. Accordingly, ask if there's a warranty.
When you've found the right locksmith, keep that company's information on hand for your future reference - in a handy location such as your wallet, your refrigerator, your smart phone, and the break room's bulletin board at work. That way, you'll always be able to get out of a jam right away if any problems with locks and keys come up - automotive, residential, or commercial.
Whether you need a capable locksmith for a one-time emergency, or you have to hire a professional locksmith specialist to work on a project, you simply don't want to give permission to just anyone when it comes to resolving issues with keys and locks. An exceptional locksmith will be happy to answer your questions.