Why Panic Bars Are Crucial for Your Business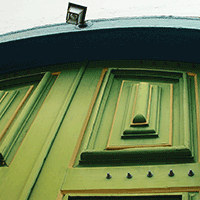 If you own or operate a business in the Tucker, Georgia region, then you should know about how important panic bars are to the safety of you, your staff members, and your customers, as well as anyone else on your property. Panic bars are a cost-effective, simple installation that a locksmith can perform for you at a low price. Our locksmith pros at Locksmith Tucker LLC have extensive experience outfitting local businesses with emergency exit hardware such as panic bars. We have a wide selection in stock of panic bars, alarm systems, emergency exit hardware to serve the needs of businesses all across this part of Georgia. Contact our locksmith.
A Brief Explanation of Panic Bars 
Panic bars (otherwise known as crash or push bars) are a common form of door exiting mechanism found on commercial buildings. They consist of a special type of spring-loaded lever that, when depressed, forces the door open. There are no knobs to turn or levers to manipulate. This can cut down on precious seconds for each person exiting the door, which may not seem like much at first, but adds up significantly if there are many occupants in the building. Panic bars are not only recommended for buildings with high occupancy rates, but may be mandatory depending on the fire code governing each specific building. 
You probably use panic bars at least several times a week, but haven't given them much thought. Panic bars are found most commonly on retail centers, restaurants, medical facilities, schools, and other buildings with a high occupancy, but may be found in commercial properties of all varieties. They are generally inexpensive and easy to install for a locksmith. Most people go through their whole lives using panic bars on a regular basis and never knowing what they're called. 
Panic bars have become widespread all across the world because they have been shown to save lives and prevent injuries in a crisis situation. Their affordable cost and easy installation make them a valuable investment for almost any business that has more than 5-10 people on the premises at any given time. While most commercial properties of a certain square footage already have panic, bars affixed to all of their exterior doors, it's crucial to ensure that the panic bars you may already have installed are functioning properly. 
The history of panic bars is one colored with tragedy. Panic bars were developed in response to a string of preventable disasters, the two most famous being the stampede at Victoria Hall and the fire at the Iroquois theater. In both situations, unsafe locking mechanisms on the doors along with other barriers resulted in massive casualties of the people inside that should have been preventable. 
These tragedies, coupled with others of a similar nature, were integral in creating the first emergency exit door devices. Panic bolts were developed originally as a precursor to today's panic bars, and featured a latch that opened the door when pressure was applied. 
Why Panic Bars are Vital for Your Business
It isn't a fluke that panic bars have become obsequious with commercial security. Their efficient door opening ability makes them ideal in the face of an emergency, especially in the case of a crowd inside the building. Panic bars have been shown in multiple ways to decrease the risk of injury or death in the event of an emergency evacuation. They greatly lower the risk of stampede behavior and jammed exits. While it may not seem like a big deal to have to turn a knob or handle to open a door, in an emergency, every second is vital and those moments add up quickly. The faster that everyone can exit the building, the lower the risk of injuries and worse. 
When an emergency occurs, even the most rational and level-headed person may instinctually have a tendency to become anxious and act out-of-character. This is due to reactions that occur naturally in the human body. Everyone in the building will seek out an easy exit. If they see any traffic barriers not only for themselves but for other people in the building, that may increase their panic. This might lead to an enhanced "flight, fight, or freeze" reaction, otherwise known as a panic attack. 
Panic bars allow exit doors to swing open with minimal effort, removing any visible barriers. Usually they also have a feature that allows them to be set to an open position, allowing for even faster movement. This can not only help physically clearing the building, but also have a powerful psychological effect on those still inside that gives the situation a better chance of proceeding without incident. 
Affordable Panic Bar Installation 
If you need panic bars installed, repaired, or replaced on your commercial property in the Tucker, Georgia area, Locksmith Tucker LLC can help you out with affordable, convenient service. Our locksmiths carry many different styles of panic bars and emergency exit hardware in stock and are available for same-day assistance. Our locksmiths can also assist you in determining what modifications you may need to make to your property in order to bring it up to fire codes. 
Affixing all of your exit doors with properly functioning panic bars is one of the most cost-effective ways to increase your property's overall security. Along with emergency exit hardware and fire doors, panic bars can keep you, your staff, and your customers safe. While some business owners may fear that panic bars can compromise their security by making their doors easier to open, let us assuage those concerns. Panic bars don't make it any easier for someone on the outside of the door to get it open. 
Investing in panic bars for your business can ensure that everyone on site is able to safely exit the building should the time ever come. Taking steps to improve your building's safety as well as its security is the best way to ensure the longevity of your business, no matter your industry.